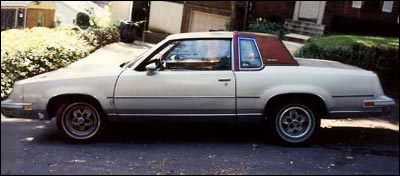 1981 Oldsmobile Cutlass Supreme Classic Brougham Coupe
- Silver with maroon vinyl half-top
- Maroon velour interior
- Automatic transmission
- V8
- Power locks and windows
- Power driver's seat
This was my first car, a hand-me-down from my dad, a huge Oldsmobile that he'd had for a while. I guess he figured, as most parents do, that a giant hulk would be a good first car, and for the most part it was, except when trying to thread my way through the double-parked streets of D.C. with a load of college friends. Naturally it was the taxi, and we all appreciated its carrying capacity.
That was a mean-looking car, one of the final gasps in the line of really big cars by Oldsmobile. I've always been partial to mean-looking cars.
One day as I hung out with my neighbors in the corner house on their deck, I saw my brother get in my car, start it up, drive down the road, take a right there in front of me, drive three yards, and then a sound, and smoke started leaking out from under the hood. As he sat there apparently trying to figure out what was going on, this other car came up on his left side and stopped there in the middle of the road (both lanes now being blocked around a blind curve; always a good idea), and this woman rolled down her window to say, "Your car's on fire!" as if that weren't obvious by the smoke pouring out. My neighbors ran in the house, grabbed a fire extinguisher, and we all ran over. My brother had left the car by the time we got over there, and I made a crazy dash into the car for my art projects in the back seat while the neighbor lifted the hood and sprayed the extinguisher under there.
We got it back up the street into its spot. Insurance came to check it out and determined it was totalled. They hauled it away on a flatbed tow truck. They determined that gas had been leaking and it dripped on the hot manifold. I had no idea at the time what a "manifold" was or why it was hot. I knew nothing about cars at the time. Knowing what I do now, that probably could've been avoided with a fairly small fix.
It's good to learn about cars early on...
---